 
OcCre La Candelaria 1:85 Scheepsbouwpakket
Zeer compleet bouwpakket in de Collectors serie van OcCre Modelbouw.
De bouwdoos wordt geleverd met diverse soorten kwaliteitshout en is compleet met luxe standaard en beslag. Verder wordt u bij de bouw begeleid door een stap-voor-stap fotohandleiding.
Niet meegeleverd worden lijm en verf.
De Candelaria is een bommenwerper van de Middellandse Zee ter grootte van een brig maar dan breder en met 2 masten: de grote mast staat bijna in het midden met een ronde tuigage en de kleine bezaanmast heeft een gaffelzeil. Tussen de grote mast en de voorplecht staan de mortieren. De Candelaria werd ontworpen en gebouwd om als drijvende batterij te dienen om havens te blokkeren of gedurende het overwinnen van forten aan zee.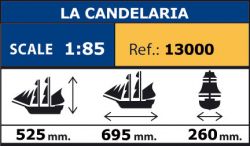 No customer reviews for the moment.